The Secured Chime Credit Builder Visa® Credit Card is a secured credit card that can help you build your credit for the first time or help you repair your credit. Like other secured cards, Chime lets you access your security deposit and use it to pay down your balance -- a feature that can prevent you from ever missing a payment. You'll then replenish your deposit to begin using this card again.
However, the Credit Builder lacks perks that come with traditional credit cards, like earning rewards. You'll also need to open a Chime checking account and make a qualifying direct deposit in the account to use this card.
There are plenty of pros and cons to weigh -- especially against similar cards. Here's everything you need to consider before opening a Chime Credit Builder Visa card.
In this article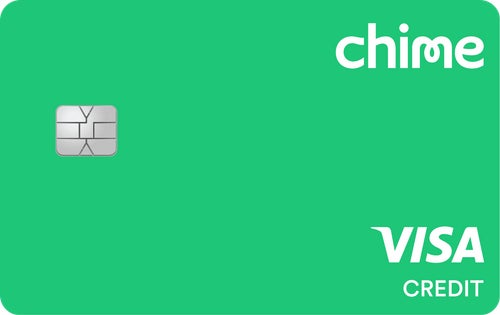 Secured Chime Credit Builder Visa® Credit Card
Card Highlights
Intro OfferN/A
APRN/A
Intro Purchase APRN/A
Recommended Credit N/A
Reward RatesN/A
Annual FeeNone
How it works 
The Credit Builder card is one way you can build or repair your credit. Here's what you can expect:
To get started, you'll set up a Chime checking account and must receive a direct deposit of at least $200 from your employer or another source of income. When you're approved for the Credit Builder card, you can move money from your checking account to your credit card account. There's no set credit limit -- however much you move into your Credit Builder secured account will serve as your credit limit.
You can then use your Credit Builder card wherever Visa is accepted and make on-time credit card payments to build your credit. 
Your progress will be reported to the three major credit bureaus -- TransUnion, Equifax and Experian. Just make sure the credit building feature is turned on in your account for reporting.
How it's different from other secured credit cards 
The Secured Chime Credit Builder card works like most secured credit cards. You're still required to pay a security deposit and payments are reported to the credit bureaus. But a few differences set this card apart:
There's no credit check. Some, but not all, secured cards may run a credit check.
You can access your deposit. Many secured credit card issuers won't let you touch your deposit, but you can use this money to pay off your balance at the end of the month. If you use your full deposit to pay for your bill, you'll need to add more funds to your Credit Builder secured account to utilize your credit line again.
There are checking account requirements. In addition to opening a Chime checking account, you also have to have a minimum of $200 directly deposited into your checking account within the last year of your application. The deposit must be made by your employer or payroll provider. Peer-to-peer transfers, mobile checks and cash deposits do not qualify.
Rewards 

Like many secured credit cards, Chime's Credit Builder doesn't offer a welcome bonus or ongoing rewards. Since the card is geared toward building or repairing credit, it's best to focus on establishing good credit with this card. If you're interested in earning rewards, the Discover it® Secured Credit Card or Capital One Quicksilver Secured Cash Rewards Credit Card might be better options.
Security deposit and fees 
This card requires a qualifying minimum $200 direct deposit into your Chime checking account within one year of your application for the Credit Builder card. The deposit will be collateral for your credit card, but you can also use it to pay off your balance at the end of the month. Fortunately, the Secured Chime Credit Builder card doesn't charge an annual fee, interest, out-of-network ATM or replacement card fees. 
Introductory APR 
The Credit Builder card doesn't have an introductory 0% APR period for new purchases or balance transfers. If you need to transfer an outstanding balance to kick-start repairing your credit and you don't qualify for a balance transfer credit card, consider a debt consolidation loan, or focus on creating a feasible debt payoff plan instead.
Other card perks
Aside from helping you build better credit over time, the Credit Builder has a few additional perks that can come in handy:
Instant transfers between your Chime checking account and Credit Builder card
No-fee ATM transactions at Allpoint, Visa Plus Alliance and MoneyPass ATMs at 7-Eleven locations
Move My Pay, a feature to automatically transfer money from your checking account to your Credit Builder card when you get paid
Alternative cards
Discover it® Secured Credit Card 
The Discover it Secured card is another secured, no-annual-fee card that also reports to all three major credit bureaus to build your credit. You'll need a minimum $200 security deposit to get started, but after seven months, Discover will review your account and may upgrade you to an unsecured credit card. If approved, your security deposit will be returned to you. 
If you want to earn rewards while building or repairing your credit, this card may be a better fit than the Credit Builder. With Discover, you'll get 2% cash back on gas stations and restaurants up to $1,000 in combined purchases each quarter and 1% cash back on all other purchases. Plus, Discover's Cashback Match offers an unlimited dollar-for-dollar match on all of the cash back you've earned at the end of your first year. 
However, if you're repairing your credit and afraid earning rewards could lead to overspending, the Secured Chime Credit Builder might be a less risky option.
See our full Discover it® Secured Credit Card Review. 
Milestone® Mastercard®
The Milestone Mastercard is an unsecured card that's a solid option if you have less-than-perfect credit. While it doesn't offer rewards like the Discover option, the Milestone card has a few standout benefits. First, the Milestone doesn't require you to open or link a checking account -- and since it's unsecured, you don't have to pay a security deposit. It does, however, have an annual fee, unlike the Credit Builder, which ranges from $35 to $99, and a $40 late payment fee. Lastly, the Milestone card requires a credit check, but can be easier to get approved for than other traditional cards if you have limited or less-than-perfect credit. You can also check to see if you're prequalified for the card.
FAQs
What is the safer credit building feature?
Chime's safer credit building tool lets you automatically pay your balance every month with the remaining money in your Credit Builder secured account. Enabling this feature can help ensure you make on-time payments.
If I reach my credit limit, will it hurt my credit score?
Chime's credit builder tool doesn't report your credit utilization -- the amount of credit you use compared to your full credit line -- so your credit score won't be negatively impacted if you reach your credit limit. However, it's important to use this credit card responsibly to ensure you can repay your balance each month by only charging what you can afford to pay back in full.
What happens if I miss a payment for my Credit Builder card?
If you miss a payment, Chime will disable your credit card until you pay the amount that's overdue. If your balance is not paid in full after 30 days, Chime may report your balance to the credit bureaus, which can negatively impact your credit.
When is my Secured Chime Credit Builder payment due?
According to Chime, your statement is available by the 28th day of each month and payments are due by the 23rd of the next month.
The editorial content on this page is based solely on objective, independent assessments by our writers and is not influenced by advertising or partnerships. It has not been provided or commissioned by any third party. However, we may receive compensation when you click on links to products or services offered by our partners.