The Green Dot Prepaid Visa Card* lets you load cash from a number of popular retailers (for a fee), utilize early direct deposit, transfer funds from a bank account at no additional cost and transfer money between Green Dot users for free. But there are numerous fees you'll have to contend with.
If you don't have a bank account, the Green Dot card could help you manage funds since you can have up to $10,000 on the card and monitor your account via a mobile app.
It's not a credit card, so you won't earn any rewards or build your credit when you use it. But if you're looking for a card you can reload funds to and receive direct deposits onto, it's worth considering. Here's everything you need to know about the Green Dot Prepaid Visa card.
In this article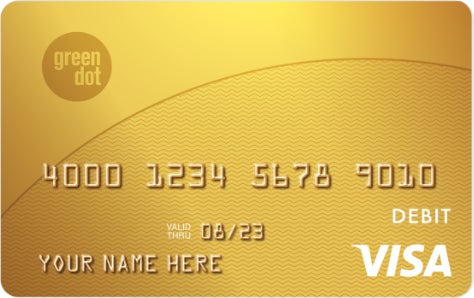 Green Dot® Prepaid Visa® Card
Card Highlights
Intro OfferN/A
APRN/A
Intro Purchase APRN/A
Recommended Credit No credit check
Reward RatesN/A
Annual Fee$0 (Monthly Fee Applies)
Additional Details
Foreign Transaction Fees 3%
Loading funds

You can load funds onto the card for free from your connected bank account or by loading cash onto it at a number of popular retailers. You may be charged up to $5.95 when reloading.
You're able to load cash at:
7-Eleven
CVS
Rite Aid
Walgreens
Dollar General
Family Dollar
Safeway
Walmart
Kroger
You can add up to $3,000 to the card daily, but you can't add any more funds if you have more than $3,000 on the card already. Despite those limitations, there's a maximum card balance of $10,000.
Card fees and withdrawal limits
In addition to the fee for loading cash onto the card, there's a monthly $7.95 usage fee that's waived if you load $1,000 or more a month to your card. Setting up direct deposit could help you qualify for this fee waiver. 
There's a $3.00 ATM withdrawal fee, and you can only withdraw $300 at a time from an ATM (the daily maximum withdrawal limit is $500). Withdrawing from a bank teller at a participating bank has a daily limit of $1,500 with a $3.00 fee. You should be able to withdraw cash from any bank that services Visa cards, but it's a good idea to double check with your banking institution.
Other card features
You can monitor your account from the Green Dot mobile app. You're also able to set up early direct deposit, use mobile check deposit and transfer funds from your bank or to other Green Dot members.
In order to qualify for mobile check deposit, you'll need to have two months of four consecutive payroll direct deposits, plus at least one transaction in the past month.
How to qualify for the Green Dot Prepaid Visa Card
While you won't need a bank account to qualify, you will need to provide a number of identifiers to Green Dot in order to get the card. You'll need to give Green Dot your:
Name
Address
Date of birth
Social Security number
Driver's license (in some cases)
Alternative cards
Consider these other prepaid debit cards if you're not interested in the Green Dot Prepaid Visa Card.
PayPal Prepaid Mastercard
The PayPal Prepaid Mastercard* offers plenty of ways to reload your funds and features a lower reload fee and monthly fee. Rather than up to $5.95 with the Green Dot card, you'll pay up to $3.95 to reload at over 130,000 NetSpend Reload Network locations, or through PayPal. It has a retail store cash reload limit of $500 and it'll cost slightly more to buy the card from a store (up to $4.95 compared to $1.95).
Serve American Express Card
The Serve American Express Card* lets you load cash to the card at many of the same locations as the Green Dot card -- but there's no reload fee. You're still able to set up direct deposits, manage your account from a mobile app and you can register your transactions to add an extra level of security against fraud.
FAQs
Is there a balance inquiry fee?
Yes, the Green Dot Prepaid Visa Card has a $0.50 fee to check your balance at an ATM. However, you can check your balance for free in the GreenDot app.
What happens if I lose my card?
If you misplace your card, a replacement card will cost $5 -- $15 if you want expedited delivery.
Will the Green Dot Prepaid Visa Card affect my credit?
No. Since it's a debit card, your card activity won't be reported to the three major credit bureaus -- Equifax, Experian and TransUnion.
*All information about the Green Dot Prepaid Visa Card, the PayPal Prepaid Mastercard and the Serve American Express Card has been collected independently by CNET and has not been reviewed by the issuer.
The editorial content on this page is based solely on objective, independent assessments by our writers and is not influenced by advertising or partnerships. It has not been provided or commissioned by any third party. However, we may receive compensation when you click on links to products or services offered by our partners.