Crypto credit cards allow cardholders to earn rewards in bitcoin, ether and other cryptocurrencies rather than traditional points, miles or cash back.
While some of the rewards and other perks may seem attractive on first glance, it's important to keep in mind the additional risk and volatility that comes with crypto over earning US dollars or an issuer-branded currency. The crypto market is unproven and turbulent, with crypto prices down from their peak in 2021 -- in response to stimuli like the Federal Reserve raising interest rates and the luna cryptocurrency collapse. What's more, regulations and tax laws are evolving in this market, and legislators and enforcement agencies are applying particularly high levels of scrutiny to institutions offering crypto products.
You'll need at least good credit to be approved for one of these crypto cards, but you'll be able to use them anywhere other credit cards are accepted.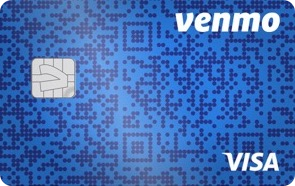 Cash-back card that lets you redeem rewards for crypto
Card Highlights
Intro OfferN/A
APR18.24%, 24.24%, or 27.24% Variable APR
Intro Purchase APRN/A
Recommended Credit Excellent, Good
Reward Rates
Earn 3% on your eligible top spend category
Earn 2% on your second eligible top spend category
Earn 1% on all other eligible purchases and on Venmo person-to-person transactions
Annual Fee$0
Additional Details
Foreign Transaction Fees None
Rewards & Redemption Details
Earn 3% on your eligible top spend category
Earn 2% on your second eligible top spend category
Earn 1% on all other eligible purchases and on Venmo person-to-person transactions
Our Take
The Venmo Credit Card is a cash-back rewards card, but you can choose to redeem rewards in crypto -- bitcoin, ethereum, litecoin or bitcoin cash -- at the end of each month. Unlike some other credit cards, there are no transaction fees for converting rewards to cryptocurrency. Venmo automatically assigns your highest cash-back rate to your highest spending categories. You'll earn 3% back on your highest eligible spend category, 2% on the second highest eligible spend category and 1% on all other eligible purchases, so you don't have to strategize your spending to maximize your rewards. The major drawback is that you cannot transfer your crypto from Venmo's custodial platform to an exchange or your own wallet, which may be a dealbreaker for some.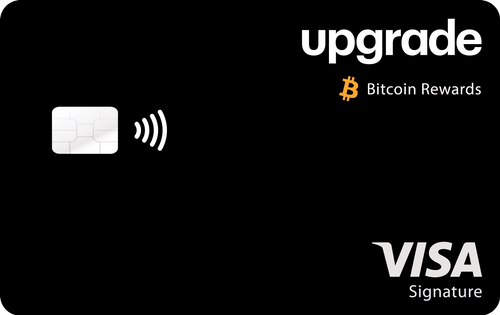 An alternative bitcoin rewards card
Card Highlights
Intro OfferEarn a $200 bonus on your Upgrade Card after opening a Rewards Checking account and making 3 debit card transactions*
APR14.99% - 29.99%
Intro Purchase APRN/A
Recommended Credit Excellent/Good Credit
Reward Rates
1.5% back in bitcoin when you make payments
Annual Fee$0
Rewards & Redemption Details
1.5% back in bitcoin when you make payments
Our Take
The Upgrade Bitcoin Rewards Visa is a simple crypto credit card -- or perhaps we should say bitcoin card. Though it doesn't offer anything above and beyond other cards, it's a satisfactory alternative if the other options aren't right for you. You'll only earn bitcoin, but it does offer the same rewards rate as BlockFi at 1.5% back on all purchases. You can use the Upgrade Bitcoin Rewards Visa anywhere Visa is accepted, but you cannot move your bitcoin from the custodial Upgrade platform to your own wallet, limiting your "ownership" to price exposure. The only thing you can do with your bitcoin rewards is hold them in the custodial account or sell them to redeem as a statement credit at a time of your choosing. While this is limiting, it's still one of the most straightforward crypto rewards cards publicly available right now.
FAQs
Do I have to pay taxes on my crypto rewards?
While legislation is still being hammered out, it is important to track your cryptocurrency buy-in prices so you can report any capital gains you may owe taxes on. If and when you sell your cryptocurrency holdings, you may be required to report capital gains and losses to the IRS. Major tax software platforms are building out support for reporting crypto on your taxes, or you can consult with a tax professional to determine your specific needs.
Are crypto credit cards safe?
Cryptocurrencies are widely considered high-risk and volatile assets, so the value of your rewards balance may fluctuate significantly over time with no guarantees. Accounts where cryptocurrencies are held are not FDIC-insured like banks, and some have ongoing legal challenges. Legislation is still evolving and has not yet been solidified surrounding cryptocurrencies, so there is inherent risk in the unknown.

Read more: Bitcoin and Cryptocurrency Regulations in 2022
Are there any crypto debit cards on the market?
There are also some crypto debit cards on the market, including the Crypto.com Visa Card, the Robinhood Cash Card, the Binance Visa Card and the upcoming Coinbase Card. All of these cards allow you to spend your crypto at public merchants and earn crypto rewards on your expenditure. Many new products are likely to hit the market in the next few years, as Visa has partnered with over 60 platforms to work toward enabling crypto transactions worldwide.
Our methodology
CNET reviews credit cards by exhaustively comparing them across set criteria developed for each major category, including cash back, welcome bonus, travel rewards and balance transfer. We take into consideration the typical spending behavior of a range of consumer profiles -- with the understanding that everyone's financial situation is different -- and the designated function of a card. 
For cash-back credit cards, for example, key factors include the annual fee, the "welcome bonus" and the cash-back rate (or rates, if they differ by spending category). For rewards and miles cards, we calculate and weigh the net monetary value of a card's respective perks. And with balance transfer credit cards, we analyze specs such as the duration of the introductory 0% APR period and the balance transfer fee, while acknowledging secondary factors such as the standard APR and the length of time you have to make a balance transfer after you open the account.
*To qualify for the $200 bitcoin welcome bonus, you must open and fund a new Rewards Checking Account and make 3 debit card transactions within 60 days of your Upgrade Card account opening. The value of the $200 bonus will be based on the value of bitcoin at the time it is purchased (within 1-2 statement periods from the date the bonus is earned) and may change in price by the time you choose to sell it. Refer to Program Terms. Your Upgrade Card must be in good standing to receive a bonus.
The editorial content on this page is based solely on objective, independent assessments by our writers and is not influenced by advertising or partnerships. It has not been provided or commissioned by any third party. However, we may receive compensation when you click on links to products or services offered by our partners.