My second comparison is about iPhone 6s/6 cases with a card slot. The basic information are from Amazon.

Images are from Amazon product pages and myself.

1. Spigen Slim Armor CS (My current one)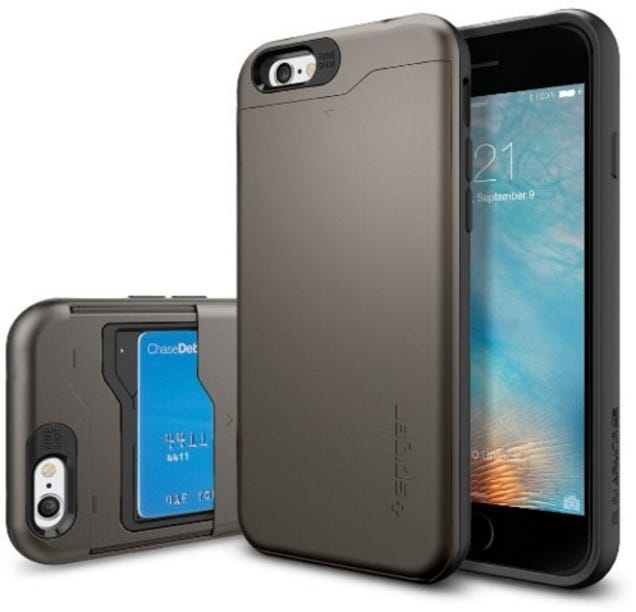 Hidden card slot slides open to fit up to 2 cards and securely locks closed
Protective interior lining safeguards cards while the Quick Access gap keeps it easy to access cards
Minimal design is slimmer than wallets and sleek in appearance
Dual-layer construction with Air Cushion Technology protects your phone
iPhone 6s Case Compatible with Apple iPhone 6s (2015) & iPhone 6 (2014)

2. Designskin Slider Card Case (got it from Amz review trader)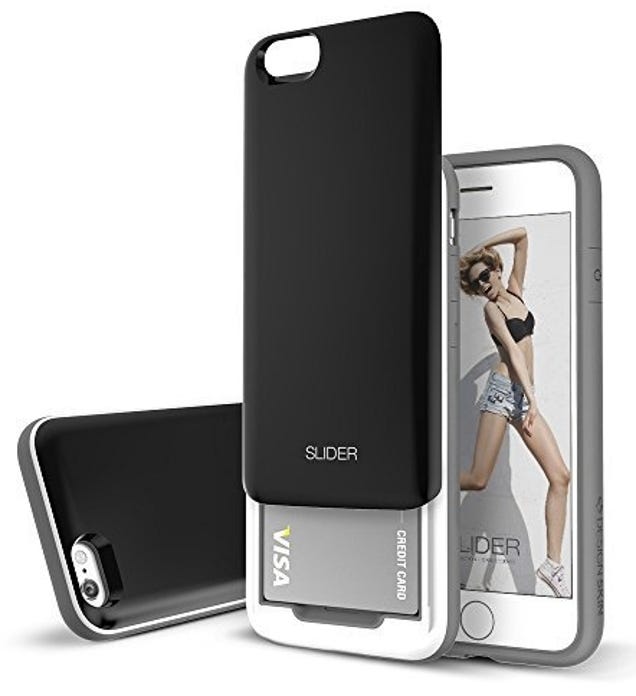 Specifically designed for the iPhone 6s (2015) and iPhone 6 (2014)
Secure, hidden card slot slides up and holds up to 2 cards
Triple-layer and TPU frame provide protection and comfortable grip
Camera lip and front lip protect your Camera lens and screen
Easy access to use all buttons and ports

3. Look (real image)
http://i.imgur.com/YqdBmz9.jpg
Size of two products are very similar. Spigen Slim Armor CS is slightly bigger but not noticable.
http://i.imgur.com/ssUnScy.jpg
DesignSkin Slider Card Case opens to upside, and Spigen opens opposite.
http://i.imgur.com/hYO18zU.jpg
Thickness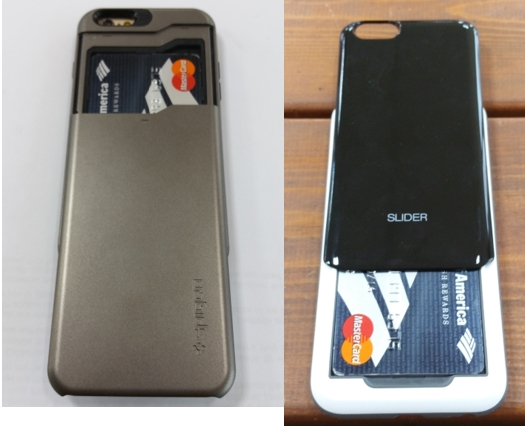 Both cases hold upto 2 cards.

Personally, I like the Slider Case since its color and sliding. Spigen seems to open too easily (but not opens 'automatically', you know what I mean.)

4. Colors

Spigen Slim Armor CS (4 colors: Champagne Gold, Gunmetal, Mint, Shimmery White)

Designskin Slider Case (24 colors and graphics: Red, Black, White, etc)

Overall, I like the both cases. I'm using the Spigen Slim Armor CS now, but Designskin Slider case will be definitely my next choice. Grips for both look secure, and the card storage feature is VERY VERY useful.

Both has pretty good Amazon product reviews. And the prices are reasonable.

Spigen Slim Armor CS: $24.03

Designskin Slider Case: $19.99

Hopefully the post helps those who are looking for a case with a card storage. To be objective, I rarely put my opinion on this post and tried to just 'show' them.

Thank you for reading my 2nd post! I know I'm very beginner, but someday, will be better. Thanks all!